INTRO : HOME : NURSERY : GLORY LASS : UK CHAMPIONS : INTERNATIONAL CHAMPIONS : STARS :
Return to Rosanyos Home Page Here





DEDICATION and BIOGRAPHY

UK CH TONANTRON GLORY LASS

1989 - 2001




Trudy's Achievements
Gained her Championship at 13.1/2 mths
Breed Record Holder (34th CC) at just 3 years old

BEST IN SHOW'S
British Boxer Club Top Boxer 1991, 1992
Manchester 1992, Richmond 1993

Reserve BIS
National Working Dogs 1992

Dogworld Top Dog All Breeds 1992
Winner of 3 Working Groups
6 Reserve Working Groups
Shortlisted on many occasions
All Awards gained prior to the Working group being split!!

Our Dog/Pedigree Chum Top Puppy 1990
Top Boxer 1991, 1992,1993, & 1994
Runner Up Contest of Champions 1994
Qualifier 1995

Cotswold Dog of the Year 1991-1992
Qualifier 1993, 1994, 1995
Unable to attend due to Maternal duties

3rd Top Dog All Breeds 1992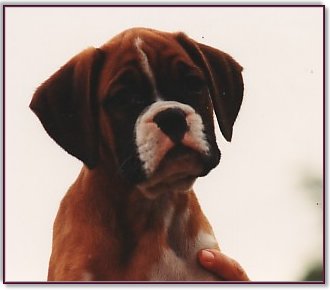 Trudy at 8 weeks old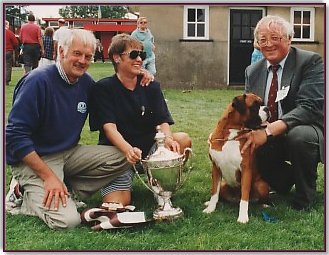 Trudy with Champion of Champions Trophy
Sagra and Brian Tonkin (left)
Philip Greenway (Handler)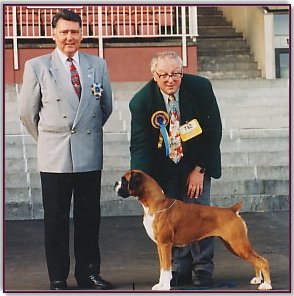 Trudy winning her 52nd CC



Trudy was born on the 24 July 1989, in a litter of 3 dogs and 1 bitch (see below photo). The litter was very nice but 1 bitch and one of the dogs looked interesting.
The interesting dog pup was the one 'that got away', for which our very good friends Philip Greenway (Trudys handler) and the late Barbara Greenway
have never forgiven us for, well we all make mistakes dont we!

Early on in life it was very evident that trudy had an outgoing temperament, she enjoyed life and as a true boxer loved everybody and very intelligent, she enjoyed
collecting 'shoes', which she didnt chew but collected and kept in her bed. Trudy also enjoyed swimming, she showed no aggression towards other breeds,
although she would never tolerate it from them. Her puppy training was 25 miles away once a week, but little did we/she know that in 3.1/2 yrs
we would clock up some 80,000 miles of travelling to shows.

Philip and Barbara Greenway saw her again at 6 mths and realised they were looking at something special and that her show potential was increasing.
Roadwork was all important and built up to 4 miles per day. Trudy was fully grown by 8 mths and we thought she might go over the top, but she didnt,
consistent road work and maturity firmed her up.

Brian, myself and TRUDY have no doubt that her show career would have not been so successful if Philip Greenway did not handle her, his love and
devotion contributed greatly to her success. Both Philip and Barbara have had a great influence on her development.

To sum up Trudys career , the crowd said it all at CRUFTS with their appreciation of her performance when she took out BOB under Charles Walker.
It was truly emotional and Trudy JUST LOVED IT.!!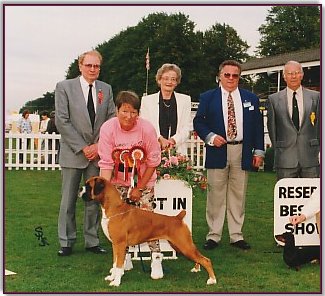 BEST IN SHOW
Richmond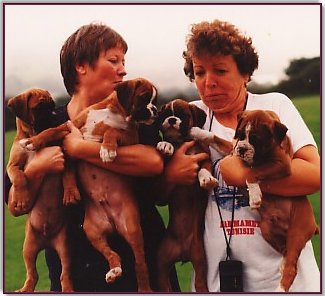 Lovely Litter of 4 - 3 dogs, 1 bitch
Trudy pictured middle right




Sagra receiving Bouquet Of Flowers
For 4 Tonantron Boxer qualifiers for
Cotswold Dog of the Year

Pictured right is CH CARYNNA RYE & DRY