Designer Dogs Grooming Services - COVID-19 Update
May 2020: In preparation for returning to work and keeping customers and their dogs safe, we have procedures in place for receiving and collection of dogs - declarations will have to be signed before appointments can be made
Designer Dogs Grooming Covid-19 Grooming Policy can be downloaded HERE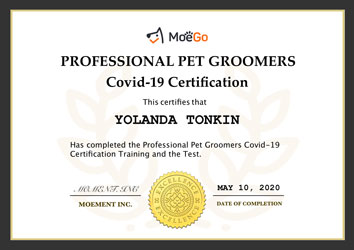 Click for larger version
Proprietor: Yolanda Tonkin
S.A.C. Professional Groomer (Distinction)
City & Guilds Level 2 & 3 Dog Grooming Professional
Pet First Aid Certificated & Customer Service Diploma
Fully inspected by UK Kennel Club
Fully inspected by Cornwall Council
Inspected by UKAS body since 2010
Boarding, Doggy Day Car & Pet Grooming Professional - Truro, Penryn, Cornwall

Fully inspected and licensed by Cornwall Council for our Dog Activities and given 5 Star rating
Licence No: L118_007672
It is now a legal requirement for ALL Boarding/Daycare establishments to be licensed for their canine activities, Please ensure that you leave your dog at a licensed establishment, any unlicensed businesses will NOT be insured and will NOT have met the criteria for the welfare of your pet as set out by DEFRA & Animal Welfare Act.

Here at Designer Dogs we provide a professional Grooming Service near Penryn Cornwall - we also cover the local areas such as Penryn, Falmouth, Helston and Truro as we are based in the South West of Cornwall


You can expect your pet to be treated with total respect, much deserved care and tender attention. There are excellent bathing and grooming facilities and secure holding enclosures for your pet to enjoy and relax in. Every care will be taken to ensure your pet has an enjoyable experience here at Designer Dogs
Regular  brushing and grooming of your pet plays a major part of their overall general health and satisfactory mental well-being. It is recommended that your pet has a professional grooming session with an expert every 6-8 weeks. Over time the coat eventually perishes and is replaced with a new growth. Removing the dead hair stimulates circulation and encourages the release of necessary oils in the skin.  It also prevents the tangling of the hair called 'matting'  which is both uncomfortable and painful for the animal to have it brushed out
In addition to lots of 'Hands On' experience in grooming I have completed further training gaining the Dog Grooming Professional Diploma and the Level 3 Award in Dog Grooming Professional Management & Business
I have been involved with dogs all my life, I grew up with boxers and have bred and owned several breeds over  the past years, including Lancashire Heelers and French Bulldogs.  I successfully breed and show my boxers all over the UK, I have a strong passion for animals having been involved with them since a very young child, owning horses, chickens, rabbits, lizards, snakes etc. over the years, you name it, I've more than likely come across it!
I have gained a wealth of experience in the maintenance of all breeds, I am an approved Kennel Club Championship Show judge and have judged on many occasions. I recognise the typical breed types of all breeds that is expected in the show ring and I also respect that the majority of dogs are much loved pets that require trimming and maintenance suitable to their own individual lifestyles. For example, a standard poodle in a pretty show clip would not fare well in an environment  that  saw it walked every day in rugged terrain so a suitable clip for such encounters would be required by its owner for ease of maintenance between grooming sessions. However, every customer  is different and therefore grooming will be performed to individual requirements / circumstances. Please feel free to contact me to discuss your pets grooming requirements, I am always happy to talk about pampering your beloved pet.
Prices are based on pets that are regularly groomed and have a sound temperament and are comfortable with grooming. Nervous dogs may take more time and will incur additional fees, as will pets that need de-matting
No grooming requirement is too much to ask, if you have a nervous pet then grooming can be staggered over more than one visit to encourage confidence
Designer Dogs also offer a Pet Pick up and Drop off service for a small fee dependant on distance, if transport is a problem, or if you would prefer to have your pet collected and returned then please contact me to arrange if you require this facility
Designer Dogs is situated on the main A394 Falmouth to Helston Road at Herniss in between the hamlets of Longdowns and Rame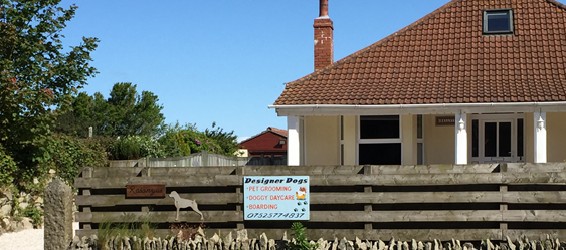 Yolanda Tonkin S.A.C. Dip (Dog Grooming Professional)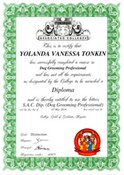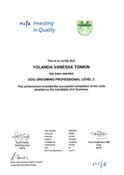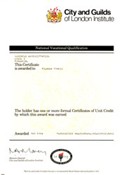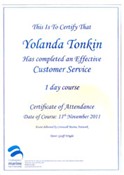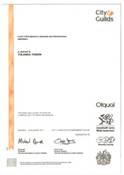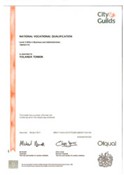 Click to view larger versions