THE BOSCARS

2015
Rosanyos boxers are extremely proud of their young show team especially Rosanyos Pocket Rocket JW ShCM (Rocket) & Rosanyos Madre Mia JW (Madge). Having looked at the leader board for DOTY they were both within the Top 20 winning bitches in the breed.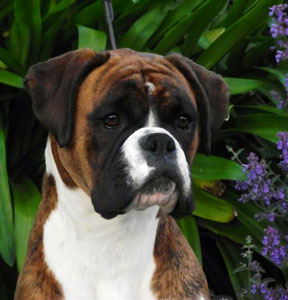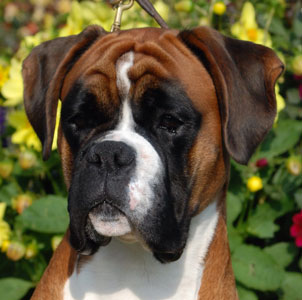 A fantastic achievement for the girls and well done Kian on your continuing success with Rocket in the breed ring. 

Leading on from this we are delighted to learn that Kian was nominated for the BOSCAR - Best Newcomer. On the night he was declared Best Newcomer and a big Thankyou to Fearn Pynegar (Berwynfa) for accepting his award on Kians behalf. 

We are so proud that Kian was thought so highly of to be nominated, then shortlisted into the final 3 - and to top it all, win it! Unfortunately we were unable to attend the DOTY and Boscars due to family circumstances. 

Thank you to all who voted for Kian

2014 

We are delighted to announce that our 2 spanish pups litter brother and sister Rosanyos San Mateo (Mateo) & Rosanyos Madre Mia (Madge) have qualified for the prestigious Mancunian Pup of the Year. They have had a fantastic puppy career and although lightly shown have done extremely well in the puppy classes they have attended We are looking forward to the event
Mateo & Madge are by the Spanish Import (Portuguese Junior Champion) Washington Del Tajo ex Rosanyos Crazy Chick.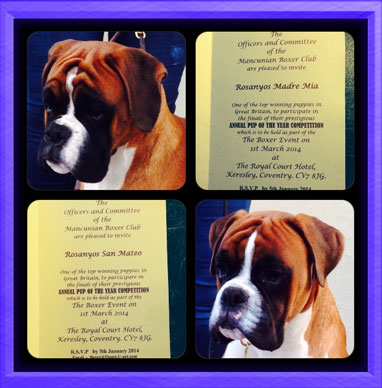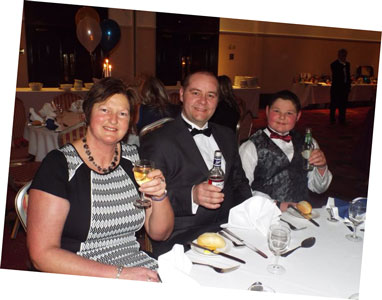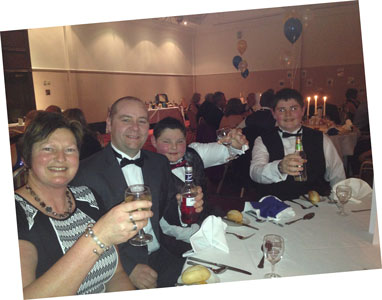 2013

Kian has come along a treat in the show world, he has continued to show in handling classes in the JHA and YKC qualifying for the finals at Crufts every year since 2011
Kian has also exhibited successfully in the breed ring at championship shows with his youngsters Rosanyos Rock and Roll (Tilly) and Rosanyos Pocket Rocket JW, piloting Rocket to her JW and qualifying Tilly for the breed ring at Crufts, all under his own steam! Kian spent the day stewarding at the Boxer Event, both Mancunian Pup of the Year and Cotswold Dog of the Year, he thoroughly enjoyed it and is looking forward to stewarding again in 2014! We were thrilled when Kian was once again awarded the Boscar for Best Junior Handler, another proud Mum moment.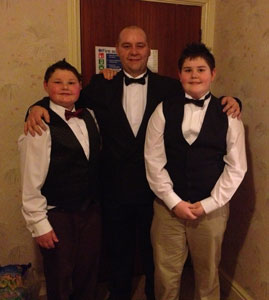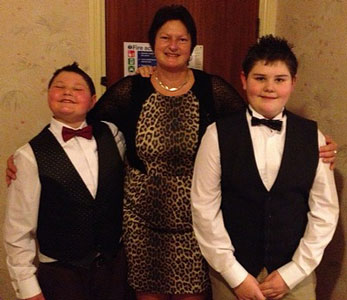 All dressed up and ready to party!
 2011

Our son Kian was voted Best Junior Handler in the breed and was awarded a crystal goblet for his achievements. It was a fantastic evening and we were very proud parents as Kian has plodded on through difficult times and continued to succeed in the ring in Junior Handling and also handling at Open shows in the breed successfully.