KIAN: CRUFTS 2012 SHAUN McALPINE AWARD


11 year old Kian Pellow honoured at Crufts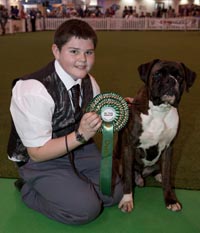 Last Sunday (March 11th), in one of the most moving moments of Crufts, 11 year old Kian Pellow from Penryn, Cornwall was named the Shaun McAlpine Outstanding Young Person of the Year.

Kian, who won both the 6-11 year old category and the overall competition, was nominated by 49 different people and it is not hard to see why. Kian is an extremely enthusiastic member of the Young Kennel Club and a volunteer for Pets As Therapy. Despite his young age, Kian dedicates his spare time to helping others. As a Pets As Therapy volunteer, Kian, his Boxer dog Howard and his mother visit the children's ward at his local hospital and the local residential care home to help lift people's spirits.

After winning the award, a bashful Kian said: "I am very surprised, and very happy. The Young Kennel Club has really helped me through some very hard times - if it wasn't for the YKC, I don't know how I would have got through it all."

Kian is a remarkable young man - when his younger brother was diagnosed with leukaemia, Kian selflessly volunteered as a bone marrow donor and saved his brother's life. Last year, when his grandmother had a kidney transplant, Kian took over the care of her dogs, taking them to training classes so he could tell his grandmother about their progress.

Kian has also raised awareness of Pets As Therapy by doing presentations and talks at his school assemblies, and he volunteers at his local ringcraft training club where he helps run classes every week. 

In March 2011 Kian won best Junior Handler at the Annual 'Boscars' of the Northern Boxer Club. Kian shows his dogs all around the country and has been consistently placed in both show handling and breed classes throughout the show scene.

The Shaun McAlpine Outstanding Young Person Award is the highest level of achievement for the country's young dog owners. Presented by the Young Kennel Club, the award acknowledges those young people who have excelled through their involvement with dogs, such as working to raise funds or increase awareness for charity, helping to organise dog activities in their area or succeeding in dog showing or training. 
For over 25 years, Ed and Cindy McAlpine have presented the Shaun McAlpine Trophy and awards at Crufts in memory of their son Shaun who was tragically killed in a road accident two weeks after his 22nd birthday in November 1984. The trophy is awarded annually to encourage young dog lovers to become more involved in dog activities, as Shaun himself had achieved considerable success as a dog handler.
Caroline Kisko, the Kennel Club's Communications Director said: "The Shaun McAlpine Award is always one of the highlights at Crufts, but Kian, this year's winner made it even more special. Kian is an exceptional young man, who has a huge heart. His selfless attitude and mature outlook is rare and we are happy to give Kian the recognition he deserves."

Eight Young Kennel Club members were nominated for the prestigious Shaun McAlpine award which celebrates young people's efforts and their achievements within the dog world. Kian won the youngest category for 6-11 year olds as well as the overall competition, whilst 15 year-old Lucy Hankey from Feltham, Middlesex won the 12-16 category, and 18 year-old Charlotte Paige from Littleport, Cambridgeshire won the 17-24 category. 

The special presentation took place on Sunday March 11th at the NEC in Birmingham. For further information about Crufts visit www.crufts.org.uk. If you would like to find out more about the Young Kennel Club and how to join please contact the Young Kennel Club team on 020 7518 1030 or visit www.ykc.org.uk.