KIAN: PETS AS THERAPHY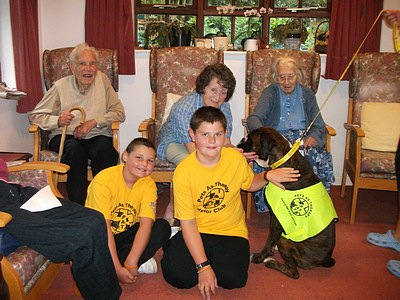 I have been a Junior Member of Pets As Therapy since end of 2009. I was inspired to become a member when my younger brother Aiden underwent a Bone Marrow Transplant back in October 2009. I was his life saving donor at the age of 8yo and we spent most of 2009 at Bristol Children's hospital (almost 200 miles from home!).  

Aiden and I both missed the dogs so much so we were delighted to be visited by a rather loving chocolate labrador cross welsh springer who had the most devine temperament. He was a very well behaved Pets As Therapy dog and we both gained much satisfaction from the regular visits. When we finally returned home to Cornwall at the end of 2009 I decided that I wanted to give something back to other unfortunate patients and their families. I asked mum if we could look into becoming members of Pets As Therapy and if we could maybe get Howard our boxer assessed to become a P.A.T. Dog as he was the perfect temperament for the job! I managed to persuade mum and Howard was assessed and passed with flying colours, so we started out duties. 

This is all volunteer work and both myself and Aiden along with mum and Howard became regular visitors at the local residential home and children's ward at our local hospital. Howard is extremely popular and really enjoys his work as a P.A.T. Dog. Howard was that popular that he was voted Runner Up P.A.T. Dog of the Year 2011 and appeared in the main arena at Crufts. I love my volunteer work, I get so much satisfaction from it and I truly know what a difference it can make to a patient and their family having experienced it firsthand myself. I am so glad that I can give something back, it means a lot to me!