POISON D'ACEBO OPUS NOCTURNE AT ROSANYOS (Imp ESP)
'Opus'
DOB: 21st July 2017
Brindle
COI: 2.7%
Heart Tested: Clear
DM: Clear
HC: Clear
Coat Colour Gene: True
Click HERE for pedigree

Following the loss of our old fawn boy "TUCHOOS ARAMIS" we decided that we dearly missed having a Frenchie about the household. We were fortunate enough to be introduced to Veronica of the successful POISON D'ACEBO Kennels in Santander, Spain which concluded in the purchase of Opus.
Opus has had an extremely successful puppy career at Open shows winning many Best Puppy in Breed, Best of Breeds and Puppy Groups. Opus has only been shown at 2 Championship Dog shows where she qualified for Crufts 2019 on her first attempt and gained a very credible 4th on her 2nd outing. Unfortunately with showing 2 breeds it's not always possible to attend the different days at Championship shows. Opus has started her Sports training and is adapting to it extremely well, she is keen to do all related activities and just wants to please.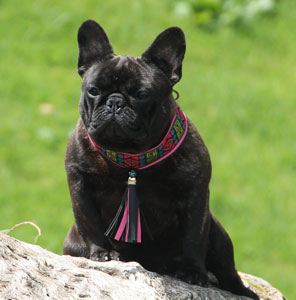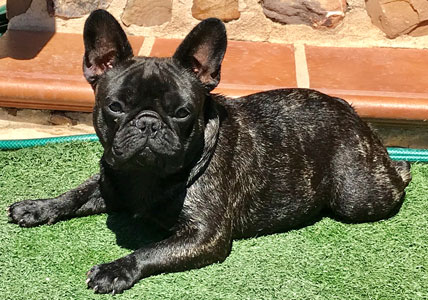 Opus gained her Junior Warrant under the new scheme at 16 months old, we are thrilled as we haven't campaigned her as much as we would have liked to due to our work / business commitments and having to show 2 different breeds of different groups makes it very hard for us. Opus has won well at both Championship dog shows and Open shows in numerically high competition.

Opus's recent health test results couldn't be any better. She has been tested through The French Bulldog Club of England Health Testing Scheme to Bronze & Silver level, passing with flying colours. Opus' DNA testing all came back clear and she only carries the correct coat colour gene that is recognised by the Kennel Club
Opus DOES NOT carry the gene for DM (Degenerative Myelopathy) or HC (Herediatry Cataracts). Heart Tested clear.
Opus passed her assessments for Kennel Club Good Citizen Puppy foundation and also Kennel Club Good Citizen Bronze Award which were delivered by Penzancce & District Canine Society.