Welcome to Rosanyos Tonantron Boxers & French Bulldogs
We are reputable, Kennel Club Assured Breeders based in Penryn, Cornwall
All our Dogs are Heath Tested - we pride ourselves on breeding healthy, happy Boxers and Frenchies
Fully Inspected and Licensed Breeder with 5 Star Rating
Kennel Club Assured Breeder







Please visit our Designer Dogs section providing professional Grooming, Doggy Day Care and Boarding Services. We also cover the local areas such as Penryn, Falmouth, Helston and Truro as we are based in the South West of Cornwall

Click HERE to see our fabulous holiday with 14 dogs all swimming in our pool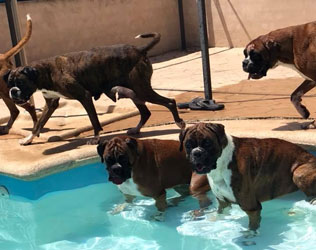 11th June 2014 Rosanyos Boxers were approved by The Kennel Club to achieve ABS status and UKAS Accreditation in the South West region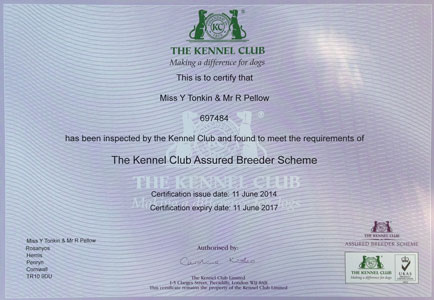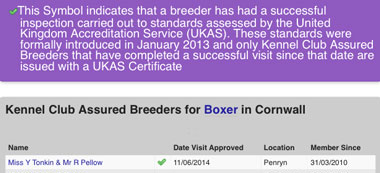 Something we are very proud of

ROSANYOS BOXERS can boast their excellent facilities incorporating all of our functions here at ROSANYOS, be it Breeding and Rearing of Puppies, Socialisation, Stud Work, Boarding, Daycare or Grooming, which are some of the services we confidently offer here at ROSANYOS. Our excellent facilities can be viewed on the Designer Dogs pages where you can view our set up. All services here at ROSANYOS can be individually tailored to your own requirements

APRIL 2014: Rosanyos Boxers are extremely pleased to announce that following a recent thorough inspection of our premises by an approved Kennel Club Inspector we have met all the criteria and standards assessed by the United Kingdom Accreditation Service (UKAS) for the Kennel Club Assured Breeder Scheme. The Inspectors words deemed us "Breeders of Excellence". We are chuffed to bits as it couldn't have happened in more difficult circumstances having well in to double figures of adult dogs on site and in addition to this, 2 litters of puppies at the time of the inspection. All our dogs reside in the house and the inspector made it very clear that we met very high standards as Breeders
As an 'Assured Breeder', we meet all the Kennel Club requirements for good breeding practices, producing healthy, happy boxers, practicing good health screening procedures, providing a good environment for the rearing of pups and good after-sales advice and practices, along with other recommendations made by the UK Kennel Club
All our boxers are thoroughly vet checked by our veterinary practice where we are extremely fortunate to have a fully qualified Cardiologist in house & the only Cardiologist currently in Cornwall.
We have home bred Boxer Stud Dogs available and from time-to-time beautiful Quality Boxer Puppies. Our Stud Dogs consistently sire quality puppies that most importantly make excellent family pets and companions. In addition to this they have sired many that have qualified for Crufts, Stud Book Holders, Junior Warrant Holders, Green Card Winners, Pup of The Year Qualifiers and many other Top Awards that are far too numerous to mention
Please Contact Us for further information

STOP PRESS: It has been confirmed by Robert McDougal and Linda Carnaby (the Boxer Records Department) that Kian is the youngest Owner/Exhibitor to win a Green Card in our Breed

Hi I'm Yolanda and I have been involved with boxers all my life, my parents, Sagra & Brian Tonkin own the World famous Tonantron Boxers, the home of many UK and overseas Champions including the Record breaking CH: Tonantron Glory Lass who throughout her show career won 52 CCs and still managed to come out of the ring on 4 occasions to carry out her maternal duties and still returned after each litter to win more CCs. This must be a record in it's own right. I had the experience of handling the Tonantrons to ultimate Best In Show titles at All Breeds Championship shows. When I met my partner Ross we decided to start our own kennel under the 'Rosanyos' affix (Ross and Yos Boxers)! 

My dad always pronounces our affix Ross 'n' Yoss!! 



Hi I'm Kian, the junior of the Tonantron & Rosanyos show dog owners, I am VERY lucky to have such famous grand-parents who have an absolute wealth of knowledge of the breed and I spend hours listening to their wonderful stories. I am so pleased that mum and dad started up their own kennel under the Rosanyos Affix and even more pleased that I am now a partner of the Rosanyos Boxers. I live and breathe dogs and those of you who know me will know my history and I hope to be around for a long time yet. I have persevered over the years through thick and thin and extremely difficult times, but I am very grateful to my family, friends and fellow exhibitors for all your support over past and present days. 

Please look at my pages for my history with the dogs, I hope you enjoy reading it.




My name is Ross, I'm the silent mostly stay at home partner in the Rosanyos household. I first got introduced to the breed when my sister had a red & white boxer bitch (Tess) from Sagra & Brian Tonkin of the World famous Tonantron Boxers, she was a daughter of CH: Tonantron Comanchero (Hadley). I then purchased a red & white dog called Charlie from Sagra & Brian, he was my first pet and was usually always up to something he shouldn't be. If you check out our archive / history pages there will be a story or two about Charlie and his antics!! It was during this period that I met Yolanda and well I suppose the rest they say is history. I had the pleasure of Comanchero living out his retiring days with us and Hadley & Charlie were great pals.